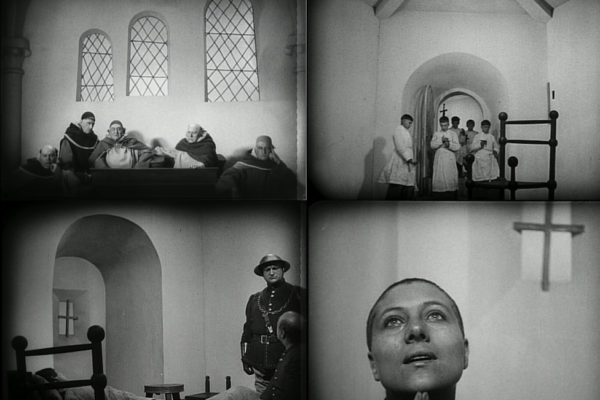 Influences on YOU DIE FIRST
There are countless movies and filmmakers that influenced You Die First in some manner, so fair warning; this could go long.
The only movie I watched with my brother directly prior to production was The Passion of Joan of Arc by Carl Th. Dreyer, a potentially risky choice considering Maria Falconetti's awesome performance. But the goal wasn't to set the bar ridiculously high for my actor. I wanted him to see someone deliver an amazing performance using her eyes, and realize that he could concentrate all of the energy of his performance into one place if it simplified his process. Only he can say if this worked, but I certainly didn't mind re-watching this great film.
Dreyer directed another movie that had a huge impact on us called Vampyr, which is also one of my all-time favorite horror films. Vampyr introduced me to the German Expressionist movement of the 1920's and 30's, a style that represents the single biggest influence on You Die First. Movies like The Cabinet of Dr. Caligari, Nosferatu, The Golem, Metropolis and Faust took a uniquely psychological approach to cinematic storytelling that is both compelling and beautiful. It also seemed like the most appropriate style for our strange little story, so we, um, "borrowed" it.
Our main goal with You Die First was to create an atmosphere of claustrophobic fear that emanates from the mysterious, the unknown, and what is hidden deep within. With this purpose in mind, we were guided by many, many classic horror movies such as The Phantom Carriage, Cat People, Psycho, The Haunting, Repulsion, Onibaba, Invasion of the Body Snatchers, The Sentinel, Alien, The Entity, Burnt Offerings and The Hunger, as well as the works of the great horror directors, including Mario Bava, John Carpenter, Dario Argento, David Cronenberg, Tobe Hooper (RIP) and George Romero (RIP).
The Horror genre is certainly still going strong in the 21st century, and many of the scariest movies ever made have been produced in the last 17 years. Some of the great modern horror movies that inspired us include Trouble Every Day, The Descent, The House of the Devil, Inside, Kill List, Beyond the Black Rainbow, American Mary, The Conjuring, Under the Skin, Lords of Salem, The Guest, Evolution, The Neon Demon, The Witch, The Wailing and Get Out.
There are also a bunch of awesome contemporary b/w movies that inspired us to make our movie in black and white, like The White Ribbon, Ida, A Field In England, Embrace of the Serpent, A Girl Walks Home Alone At Night and Darling.
We set out to make a movie about a nightmare, so I thought it was important to look at some of the great films and filmmakers that have attempted to create dreams or utilize dream-logic to tell a cinematic story. Movies ranging from The Seashell and the Clergyman to The Manchurian Candidate to A Nightmare on Elm Street all tell stories within different genres that approach this task using a variety of creative techniques. I also re-visited films by Ingmar Bergman, Federico Fellini, David Lynch and other great directors who discovered unique and brilliant methods to create surreal atmospheres.
But with the possible exception of Carl Th. Dreyer, no filmmaker influenced You Die First more than Andrei Tarkovsky.
I often came across his name when I read about directors like Stanley Kubrick, Robert Bresson, Bergman, etc, but I only began watching Tarkovsky's movies a few years ago. I re-watched Stalker and Solaris as I was writing the script, Andrei Rublev when we were in pre-production, and The Mirror after we started shooting. Tarkovsky provided me with the film school I needed in those particular moments, because more than anything else he was fearless. His second film is almost 4 hours long! Tarkovsky also made certain cinematographic decisions in each of his movies that gave me the courage to make similar decisions with mine.
And lastly, considering Werner Herzog's favorite advice for fledgling filmmakers is "Read read read read read read read!!" I should mention some of the literary influences on You Die First. We are deeply indebted to so many great writers, both within the horror genre and without, including Edgar Allan Poe, J.K. Huysmans, Algernon Blackwood, Arthur Machen, Walter de la Mare, Shirley Jackson, Sarban, Barbara Comyns, Julien Gracq, Ernst Junger, Anna Kavan, Roberto Bolano, Karl Edward Wagner, Thomas Ligotti and Dante Alighieri.
And many others too!
PRH