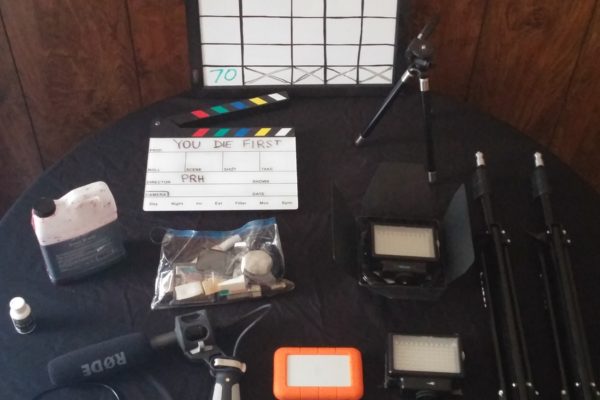 Our Resources and Equipment
I had no filmmaking experience, education or equipment when I decided to make You Die First, and my resources on Day One were:
• My brother and two best friends
• Several Friday evenings
• A creepy apartment
• GoPro Hero 5 camera
• 4 page script
• Credit card
• The Internet
The first thing I learned was that you can combine the internet with a credit card, and stuff that you want to own will appear on your doorstep like 2 days later. For instance:
• Rode NTG1 Condenser Shotgun Microphone
• Zoom H4nSP 4-Channel Handy Recorder
• Kopul Premium Performance 3000 Series XLR M to XLR F Microphone Cable
• Rode Micro 3-Section Telescopic Boompole
• Cavision Next-Generation Slate with Color Clap Sticks
• Two Bescor LED-70 Daylight Studio 2 Light Kits
• Ben Nye Stage Blood
We also used this cool little tripod that I purchased at a store a few years ago but I don't know what company makes it or any of those details. We used that quite a bit.
And I purchased a tungsten light because it looked like it belonged on a movie set, but we ended up using LED and natural lighting for consistency instead.
PRH