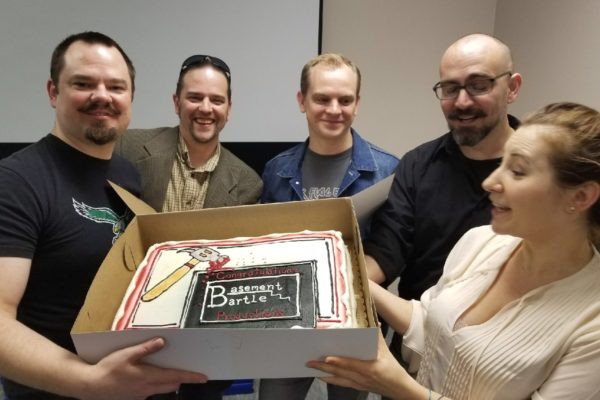 The YOU DIE FIRST Premier Party – A Belated Recap
It is difficult to believe over a month has passed since we gathered together with so many of our friends and family to celebrate the debut of You Die First, but perhaps that's because I've spent a significant portion of the past month sleeping.
I want to send a hearty "Thank You!!!" to everyone who was able to make the trip to Chalfont , PA, and hang out at The Dance Place as we viewed You Die First on the big screen with popcorn in hand. It was overwhelming to witness the support and enthusiastic response the movie received from a live viewing audience, and I can't begin to describe the appreciation and warmth I felt in my heart for every person who shared their thoughts and opinions with me after the show!
A particularly huge "THANK YOU" is reserved for one Brandi Conrow, my incredible friend / adopted sister, who championed our project from the moment she learned about it, and organized the entire event. Brandi is truly a force of nature and the living embodiment of positive energy, and I'm so grateful for her efforts to create an unforgettable viewing experience. I also want to thank Brandi's brother Chris for supplying us with a first-class projector system that presented our movie in a higher quality display than we probably deserved.
After the movie ended, I was joined on stage by the cast and crew of You Die First and we were presented with a beautiful (and delicious) cake by my sister Valerie. Everyone then mingled with some light refreshments, and eventually we made our way to Dominick's Side Door Pub next door, where we enjoyed everyone's company with drinks and laughs and general merry-making.
In short, it was a terrific time. Again, I cannot thank everyone enough for your presence and support!
Below are some pictures from the premiere.. Thanks again!